Mahabhulekh word is derived from Maharashtra Land Record. Maha is short form and popular slung for Maharashtra while and Bhulekh is Hindi/Marathi word for land record.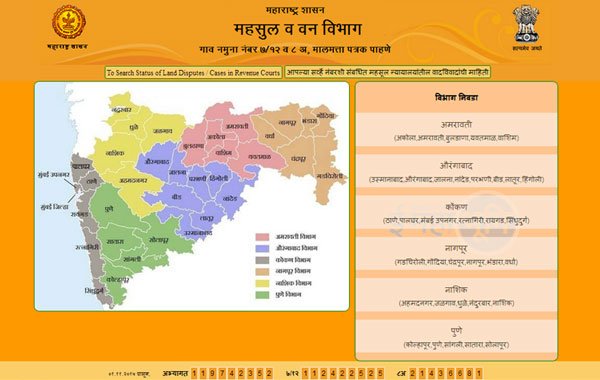 "Mahabhulekh" is an online land record website of Maharashtra state of India. The website is started and maintained  by Maharashtra Government's Land Records and Settlement Commission. The website keeps Land records of Maharashtra state to provide better services to citizen.
Now land buyers and land owners can check land record anytime on Mahabhulekh website. This is official website for land records in Maharashtra.
The website is in Marathi as Marathi is  the mainstream language of the state. Website's home page has map of Maharashtra state. Map is showing all the districts of Maharashtra. These district areas on map are clickable and takes you to respective district's land record page.
All districts in the Maharashtra are divided in to 6 zones.
Amravati Zone
Aurangabad Zone
Konkan Zone
Nagpur Zone
Nashik Zone
Pune Zone
The portal provides 7/12 utara, 8A and property card (malmatta patrak) online.
How to check  online 7/12 Utara on Mahabhulekh Site?
Go to mahabhulekh website mahabhulekh.maharashtra.gov.in. This is the official land record website of Maharashtra state.
This page displays all districts of Maharashtra. Here you have to click on your district map.
Select Taluka (Tehsil) and village from drop down.
Now you can search 7/12 record with following two options.

By Survey Number: If you know your survey number then you can search by inserting survey number.
By Name: If you don't know survey number then you can search 7/12 record by Khatadar Name.

Thereafter click on 'Show 7/12' button to generate 7/12 record. This will display your satbara (7/12) utara in Marathi.
There is also an option to print this 7/12 record. The data displayed on website is for information purpose only and can not be used for any Government/Legal purpose.
What is 7/12 Utara?

The 7/12 Utara or 'Saat Baara Utara' (in Marathi) is 7/12 Extract. The 7/12 extract is an extract from the land register of any district. This is maintained by the revenue department of the government of Maharashtra.

The 7/12 Extract (satbara utara) contains the following essential information:

Survey Number of the land.
Size or area of the land.
Land owner's and Land cultivator's name.
The nature of cultivation or type of cultivation on the land.
Crops which were grown and cultivated the year before.
Loans given to the land owner from the Government.
Subsidies provided by the Government on seed, pesticide and fertilizer purchase.
Here we are giving list of Mahabhulekh (7/12 Utara) Websites of all districts in Maharashtra. Now you can check Land Records / Records of Rights in Maharashtra in few clicks.